Essential information you should know.
You do not have to worry about exorbitant medical fees in Canada. The government uses the tax from the people to provide quality health care. All you need is to be a citizen, a permanent resident, a foreign worker, or even an international student to benefit from public health insurance in your territory.
Receiving Medical Aid In Manitoba
One of the first things to ensure having moved into Manitoba is to get your Health Card. You would agree ailments or accidents can surface anytime without any prewarning. However, the medical system in Manitoba has an extensive array of programs and services that are publicly funded.
These services are disseminated via Regional Health Authorities. The province of Manitoba sets up five agencies of RHAs to provide good health needs to people living in Manitoba. Here is a list of the agencies involved:
a. Winnipeg Health Region
b. Interlake-Eastern RHA
c. Southern Health
d. Northern Health Region
e. Prairie Mountain Health
Essential Questions About Healthcare In Manitoba
Residing in Manitoba is not the same as living in another province. Similarly, you should know the peculiar details. They include:
What does Manitoba healthcare entail?
You and your dependents can see the doctor, benefit from the hospital emergency, get a prescription, and have access to other services like private nursing, dental care, and constant eye examination (for people between the ages of 19 to 65 years).
You can get supplementary health services with supplemental health insurance, but not everyone can afford these services. They may not have access to dental insurance, but there are community centres that attend to patients for reduced fees or without insurance.
Who is eligible for medical care in Manitoba?
To be eligible for health care in Manitoba, you should meet the following criteria;
Be a citizen or a permanent resident
Have a work permit (with dependents or spouse)
Live in Manitoba physically for half a year
Have permanent accommodation in Manitoba
A newcomer has no reason to panic, they can use their IRCC documents and Manitoba Health Registration Form. Your lease or mortgage agreement, driver's license, and employment confirmation are critical documents too. In addition, when you have your Permanent Resident Status with the date of arrival, you are eligible for health care.
If you are a citizen of Canada but live in another province, you become eligible from the beginning of the first day of the third month upon arriving in Manitoba. These residents can depend on their original province or territory during this waiting period.
What does my Manitoba Health Card entail?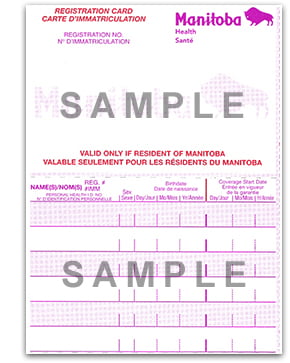 Upon arrival in Manitoba, you will be issued a certificate of registration. This comes as a card you are to present when you need medical services. However, the card is specific to the people with their names.
Similarly, a change in family status or address can affect the card. To Manitoba health, you should always upgrade vital details like a new home address, birth, marriage, death, adoption, legal separation, or divorce. You will be issued a new card.
What other healthcare services are there?
There are medical assistants available for free consultations. You can call Healthlinks at any of these numbers Toll-free at any hour of the day – 1-888-315-9257 or 204-788-8200 for people in Winnipeg.
The beautiful part is that you can reach out to these numbers even if you are uncertain about the condition and its level of emergency. Nevertheless, you should call 911 for anything significant like trauma, a heart attack, or a severe head injury.
If you are a family, you should use the services of a family doctor. The advantage of this is to ensure continued medical care for your family. You can register online to find a doctor. Individuals without a family doctor can access QuickCare clinics.
Registered nurses, trained physicians, and other medical practitioners are ready to help you get better. If you live in Winnipeg, Selkirk and Steinbach are top QuickCare clinics. You can also use the ACCESS Centers.
What does Pharmacare offer?
Another great benefit of living in Manitoba is that you are protected from expensive drug costs. Pharmacare helps pay a significant part of the cost of your drugs – irrespective of age or medical condition. However, your payment for eligible prescription drugs and total family income are determinants.
Anyone eligible for the Manitoba health card can apply for Pharmacare. You can register for this via the Manitoba Pharmacare Program. Nevertheless, you must not be registered under any other federal, provincial, or private programs that want to cover your Pharmacare.
The Downside To Canada And Manitoba Healthcare System
Receiving medical attention from the Canadian and Manitoban healthcare system has its cons. Keep reading to learn the common issues people face with Canadian medical care.
Delay for non-emergency cases
Waiting to see a medical professional or to get non-emergency attention can require a long wait time. As of 2017, Fraser Report estimated the average wait time to see a professional was 21 weeks from referral to treatment. People travel to other towns, provinces or even countries to get a faster response.
 Health coverage is not uniformly distributed across every province
The health revenues are distributed based on demographics. By implication, people living in urban areas have improved health conditions compared to rural areas. Many people often go to the city for enhanced medical attention.
Statistics show that people in suburban regions experience higher infant mortality and premature death rates. The reason is that they have fewer doctors and lack modern facilities. Also, transferring people to the city for emergency care requires a longer distance. Time is always the greatest enemy in this case.
The system is reactive and not proactive
Manitoba healthcare does not provide proactive efforts in wellness. Instead, they always seek to treat cases when they arise. Prevention and promotion activities are common in other countries. It helps to equip patients with the knowledge they need about their health.
The health cost is not properly represented
An average household drops over $11,000 annually for their healthcare services. They may be excluded from paying while seeing the doctor. However, they pay taxes which fund the system. The taxes in Canada are higher if compared with other countries.
Healthcare insurance has increased by 53% since 2004 while income has only increased by 34.7%.
Some services are unavailable
Getting MRI in Manitoba can take ages. Unlike U.S. cities, they quickly get their MRIs done. Canada takes months before you can get one. MRI cases are usually critical and must be done as soon as possible. You may have to live with such discomfort, and hopefully it is mild enough that you can handle the wait.
Delay in emergency wait times
Perhaps most importantly, when you visit the hospital for an emergency, you would expect to see a doctor immediately. However, that is not the case in Canada, and wait times are getting worse. A typical wait time when entering the hospital for an emergency can be anywhere from 8-12 hours and, sadly, even up to 24 hours. This situation is not improving, it is only getting worse. The Canadian healthcare system needs a complete overhaul, unfortunately.
Frequently Asked Questions About Canada And Manitoba Healthcare
Who are those not eligible for Manitoba Health Coverage?
The list is simple – visitors, transients, tourists, and domestic students that are not permanently residing in another Canadian territory or province. On the other hand, if you have lived in Manitoba for 183 days or are legally in Canada, you are eligible for healthcare.
Can I use my Manitoba healthcare privileges in another province?
Of course, you can. Manitoba agrees with all other provinces in Canada except Quebec. This implies that medical services will be catered for by the Manitoba health plan, even while you are outside the territory. They will pay the standard rate if you are admitted to an approved clinic.
You should get additional health insurance if you love to travel. It will provide access to all services wherever you are. Also, you must have your healthcare card before you can access the healthcare facilities of the other province.
What is the average cost of health services in Manitoba?
You will need up to $250 for patient costs in Manitoba. However, you can enjoy the services provided by the government like other residents. You can save a lot of money to fulfill other expenses.
Be a part of the insurance plan and enjoy quality medical care.
REFERENCES
– Five important facts about your Manitoba Health Care coverage. (2022). Retrieved 2 July 2022, from https://livelearn.ca/article/health-care/five-important-facts-about-your-manitoba-health-care-coverage/
– What you need to know about health care in Canada | Moving2Canada. (2022). Retrieved 2 July 2022, from https://moving2canada.com/healthcare-in-canada/